---
My training and mindshop are unlike any other. What is a Mindshop? It is a hybrid between a Mastermind and Workshop.  I wanted to take the best of both worlds in order for my clients to receive the most bang for their buck. I will challenge your way of thinking. I believe in pushing the status quo. It is time for us to address the "underlying issues" head on. It is my desire to tackle them with love and renewing your mind. My approach is different where I don't assume I understand your people and your needs. I take the time to get to know your team or your audience. With my special approach and my ability to custom tailor my message to your group in a fresh way, by the time we get to the actual training, we DO NOT WASTE any time. I believe in adding meaty substance instead of a bunch of fluff. I add a lot of value by providing current issues, relevant concepts, create your own box thinking, practical applications, data to support my statements, and refreshing words that will bring life to your group that will not only enlighten, encourage, and empower your team, but enable them to maximize their potential. I see people as God sees them… unique and a masterpiece created in His own image with natural skills and talents that needs to be stirred up in order for you to see substantial results.
I offer customized presentations to fit your individual or team's needs and budget such as:
Lunch and Learns
Early Rise Sessions (7am – 8am)
Keynote speech for your company sponsored event
Half day and full day mindshop/seminar
Mastermind Groups
Executive and personal retreat
Partnership Summit
Students Conferences or functions
Getting in the RIGHT doors
The Law of Pain
The Law of Trade-offs
Terror Barrier
See it and Seize it
The Five Fold Business
The Secrets to Connecting with People
The Law of Modeling
The Law of Expansion
---
Mindshops and Training
**I specialize in creating training that is tailored to the following groups: Salespeople, Business Owners/Leaders, Women, Students, and Hybrids (Legacy and Millennials Mix)** across VARIOUS industries. 
As a Growth Strategist and a Certified John Maxwell Coach, Trainer, and Speaker, I will provide customized growth plans and development programs for you and your team based on your current initiatives and where you want to go.
These mindshops can encompass a mixture of any of the John Maxwell and Battle to Booming (B2B) Programs available . I customize them specifically to your organization and will ensure that each participant is engaged, equipped, empowered, and enlightened.
**If you need more than 1 trainer, please let me know. As part of the John Maxwell Team, I am connected to numerous John Maxwell coaches/trainers/speakers locally and globally, and we can team up to create a package for your specific initiative.
Real Examples of  Virtual MMG Sessions:
Minimum Investment:

$2,500/ per session (materials included, **contact us for multiple sessions packages** ) or $1250/ per session for Students under 21 years old
---
Leadership Game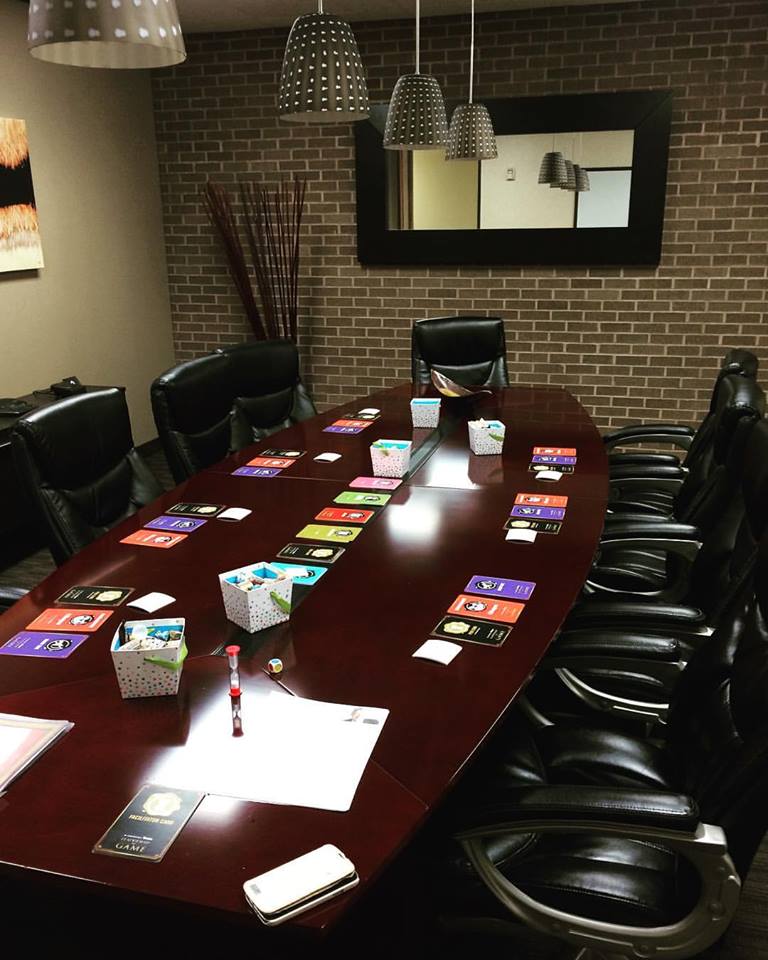 The John Maxwell Leadership Game is a comprehensive game based on the teachings of John C. Maxwell. The game helps organizations improve their leadership intelligence and increase their effectiveness.
Leadership Game is a Leadership assessment tool that is unlike any other. The Game is fun and engaging, yet it challenges the participants to have open discussions about leadership principles and values. It is designed to help leaders uncover gaps and areas for improvement within their leadership teams.
The game helps organizations improve their leadership intelligence and increase their effectiveness. The game has been played in more than 90 countries around the world. Play the game with 6-12 of your most influential leaders. This will encompass team building, leadership assessment, and training all in one.
We have facilitated the game with CEOs, fast food restaurant managers, realtors, network marketers, bankers, teachers, church leaders, and more!
Investment: $1700
---
Core Learning Systems
The Ugly Side of Sales 
Most of us only hear about flashiness side of sales such as wining and dining clients, eating at expensive restaurants, receiving big commissions, driving fancy cars, and going on outrageous trips. However, author Edna Sangel believes it is important to peel the curtain back and reveal the truth about sales, for the truth is what sets us free.
The Ugly Side of Sales is simply… Knowledge and Revelation. Sangel's intention is to stop sugarcoating sales and expose what truly happens behind closed doors. The Ugly Side of Sales is meant to educate and enlighten business owners, management, and sales people to do things the right way, yet still achieve the results they desire.
Edna will be using some of the principles she discussed in her first book, but will also be including ideas and strategies she uses NOW to differentiate herself,  get in doors, and establish long term partnerships and relationships. She prides herself in staying relevant and being an arrow in this generation of forward thinking leaders. She constantly reinvents herself and ensures that every tactic she suggests are not only proven, but different. She caters these customized programs to the client's revenue goals, leaders, employees, target market, and strengths.
It doesn't matter if you're young or old, new or tenure, the concepts apply to the "go-getter" or inspiring "top-producer". Embrace your differences and stay true to your values. Edna will not only expose misconceptions that a lot of people have on the life of a salesperson, but will also provide practical business applications, innovative ideas, and marketing strategies author Edna Sangel has used in the past to win and grow business for companies and clients alike.
Leadership Gold
Leadership Gold brims with nuggets of wisdom accumulated by John C. Maxwell during 30+ years of studying, practicing, and teaching leadership. Having wanted to write this book for years, John waited until turning sixty so that its content would contain only his "best of the best" leadership insights. Throughout these lessons, you'll encounter John's passionate belief in the value of leadership, and you'll benefit from his unique talent for articulating principles of influence.
Throughout the program, you'll encounter John's passionate belief in the value of leadership, and you'll benefit from his unique talent for articulating principles of influence.Growing as a leader maximizes your talents, leverages your relationships, and magnifies your successes. In this essential book, John introduces you to the biggest, most important principles he's uncovered about influence. Leadership Gold wastes no time wading through peripheral issues. Instead, the book cuts to the heart of what it takes to attain influence and to lead with excellence.
15 Invaluable Laws of Growth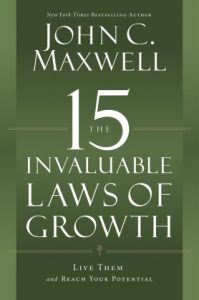 John C. Maxwell says in order to reach your potential, you must be intentional about personal growth. This training curriculum will help you understand how personal growth really works, and how you can develop yourself to become a more effective and fulfilled individual. You will learn how to build up your sense of purpose and become more successful in every area of your life.
Drawing from his own journey of self-development, John shares proven principles for upgrading your capacities to lead others and generate results. As he consistently makes plain, growth doesn't happen automatically. To get where you want to go in life, personal development cannot be overlooked, postponed, or taken for granted. Whether you're just starting your career or nearing its end, this book articulates truths you can apply immediately to make the most of your time, talents, and influence. Come alongside John in your growth journey to become the person you are destined to be!
"Only One Thing Stands Between You and Success. It Isn't Experience. It Isn't Talent."
World-renowned leadership expert John C. Maxwell says if you want to succeed, you must learn how to connect with people. And while it may seem like some folks are just born with it, the fact is anyone can learn how to make every communication an opportunity for a powerful connection. In Everyone Communicates, Few Connect, Maxwell shares the Five Principles and Five Practices to develop the crucial skill of connecting, including:
Finding Common Ground
Keeping Your Communication Simple
Capturing People's Interest
Inspiring People
Staying Authentic in all Your Relationships
The ability to connect with others is a major determining factor in reaching your full potential. It's no secret! Connecting is a skill you can learn and apply in your personal, professional, and family relationships- and you can start now by taking this course!
SOMETIMES YOU WIN, SOMETIMES YOU LEARN
"Life's Greatest Lessons Are Gained From Our Losses"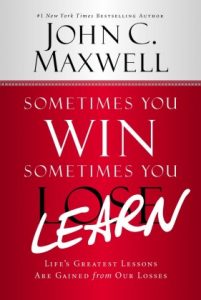 What could a hugely successful author, speaker, and coach possibly know about losing? For over 50 years, Dr. John C. Maxwell has lived life, started businesses, mentored thousands of leaders, and through it all, he has won big and learned even bigger lessons. John takes the reader on a well worn path in the pursuit of raw leadership by examining what every human has in common; those experiences we can all say, "I have been there." Every one of us has experienced a disappointing loss in our own personal growth or leadership. How we have responded to those mistakes, errors, slips in judgment or just plain missing the goal has formed us even now. No bad experience has to ultimately defeat us. This book helps light the path to a more fulfilling life by examining loss, not from measuring what one does not have, but how loss can bring abundance. Every negative event or loss that occurs can become a great learning opportunity to take us all the newer and greater heights in our own lives.
Intentional Living

Deep down, what does every person want most? To live a life that matters. We all want to feel like the time we spent on earth made a difference. How do we achieve that?
John Maxwell believes the answer is intentional living. John says, "When you intentionally use your influence every day to bring about positive change in the lives of others, you achieve significance."There is a big difference between a life of good intentions and an intentional life. Almost everyone has good intentions. An intentional life, however, has thought and purpose to it. And the best thing about intentional living? It's within everyone's reach. This book by John Maxwell shows you how.
***Edna is certified in all John Maxwell Programs but these are her favorites.***
---